Diabetes Clinic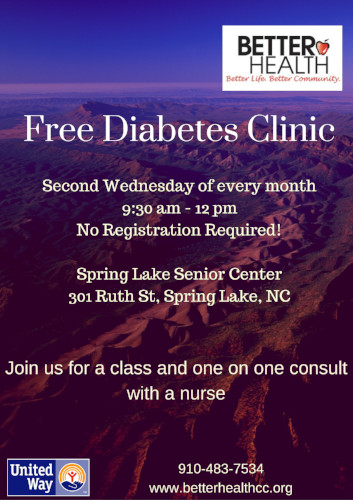 Diabetes complications can be prevented or delayed by education and proper management.  Education on self-management of diabetes is one of our core services.  Better Health offers free education and support services for adults with diabetes or who are at risk for diabetes. 
Our clinics include weekly classes, diabetes consultations with a registered nurse, diabetes and blood pressure screenings, diabetic supplies (restrictions apply), and quarterly foot care clinics, vision screenings and medication review. 
Clinics are held:
Tuesdays at 8 a.m., 1422 Bragg Boulevard, Fayetteville, NC
1st, 3rd, 4th, 5th Wednesdays at 9:30 a.m., Gray's Creek Recreation Center (Elementary School), Fayetteville, NC
NEW! 2nd Wednesdays 9:30 a.m., Spring Lake Senior Center, 301 Ruth St, Spring Lake NC NEW!
Thursdays at 5 p.m., 1422 Bragg Boulevard, Fayetteville, NC
Join us today!  Walk-ins welcome, no appointment needed.